12 Hollywood Stars Who Are Hardcore Vegans
I remember watching a popular television talk show where the host had a slew of top-level Hollywood stars on as guests. These were real A-lister types, extremely well-known superstars. Anyway, the host of the show brought on pizza for them to eat, as kind of a funny gag. What happened next amazed me. The actors were suddenly extremely reluctant to eat the pizza, but they didn't want to seem "too good" for pizza on live TV, so they were caught in a kind of dilemma. One extremely well-known actor decided to manually scrape off the cheese before eating his slice. Others simply refused to eat it altogether. After seeing this I started to wonder, are these real people, or are they robots? Do they even require sustenance?
The truth is that actors take their diets extremely seriously, and for good reason. Their health is very important to them, because their body is their career. If they start to look old too quickly, they lose out on many potential roles. The entertainment industry is incredibly harsh, and expects all people on the big screen to look like picture-perfect super humans. So these actors who were presented with a pizza on the talk show were not being snobbish, they simply cared about their health.
As it turns out, many actors have made the choice to become Vegan for this very reason- they are trying to take care of their bodies. Many studies suggest that this type of diet can reduce the risk of cancer and a huge variety of other illnesses, as well as actually prolonging one's lifespan. So is it any wonder why so many actors are Vegan?
1. Miley Cyrus
Inspired to go vegan by the loss of her blowfish, pop star Miley Cyrus discussed her compassionate lifestyle on 
Jimmy Fallon
 and posted about it 
on Instagram
.
2. Moby
3. Tony Kanal
Truly a die-hard animal rights activist and MFA supporter, the famed No Doubt bassist was one of the faces of MFA's "
no ag-gag
" campaign.
4. Alicia Silverstone
The
Clueless
actress now runs a 
vegan blog
 and even wrote a plant-based cookbook! When she's not busy working, she's running around after her five-year-old son. So where does the 39-year-old mom get all of this stamina? Plants, of course!
5. Emily Deschanel
Famous for her role as Dr. Temperance Brennan on
Bones
, Emily Deschanel has been vegan for more than 20 years and was the recipient of MFA's 
Compassionate Leadership Award
 in 2012!
6. Mýa
Mýa, a dedicated vegan advocate and attendee of our 2016 Hidden Heroes Gala, speaks out about her passion for animal rights and the health benefits of a plant-based diet.
7. Joaquin Phoenix
Joaquin Phoenix, another passionate MFA supporter, narrated our 2014 undercover investigation at a 
Walmart pork supplier
. He is also spotlighted in our summer 2016 edition of
Compassionate Living
magazine.
8. Kat Von D
Celebrated tattoo artist, entrepreneur, and TV star Kat Von D is a devoted vegan and MFA supporter. She presented our Compassionate Courage Award to Kevin Lahey, a former MFA undercover investigator, at our 2016 Hidden Heroes Gala.
9. Daisy Fuentes
Daisy, featured in a recent edition of Compassionate Living magazine, uses her voice to help animals and hosted MFA's 2016 Hidden Heroes Gala.
10. Erykah Badu
Award-winning singer and songwriter Erykah Badu has been vegan for more than 20 years. "Vegan food is soul food in its truest form," she declares.
11. Jared Leto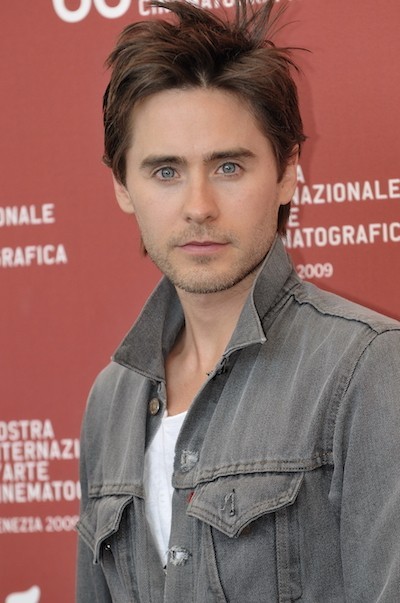 When asked by Rolling Stone how he stayed looking and feeling so vibrant, 44-year-old Jared Leto replied, "Twenty solid years of eating vegetarian/vegan and taking care of myself."
12. Jessica Chastain
Famous for her roles in action-packed movies, this 39-year-old bombshell gets all of that energy from plants! In an interview she said, "I don't want to torture anything. I guess it's about trying to live a life where I'm not contributing to the cruelty in the world. … While I am on this planet, I want everyone I meet to know that I am grateful they are here."
—
By going vegan, these celebs are protecting
animals
, the
planet
, and their
health
. Join them by switching to a compassionate plant-based diet.